Mesquite BBQ 60-year anniversary featured in Texas Monthly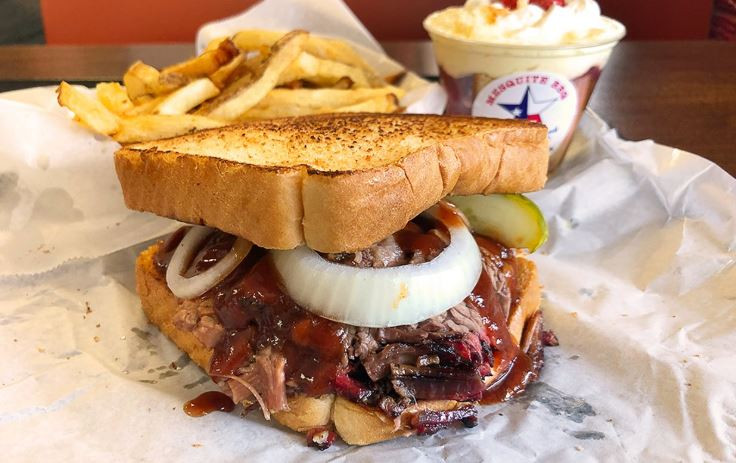 When Red Bryan closed his eponymous barbecue joint in 1957, Oak Cliff lost a beloved restaurant, and two pitmasters were out of a job. Red's son Sonny opened Sonny Bryan's Smokehouse in North Dallas a year later, and Leon Crouch headed east to Mesquite to team up with Herbert Oyler. Oyler would later patent a rotisserie smoker, but when they opened Mesquite BBQ together in 1959, they cooked their briskets in a brick pit and served them with a barbecue sauce that already had a notable pedigree.
"The barbecue sauce, which originated from Red Bryan's BBQ house in Jefferson during the 1940s, was invented by Red Bryan and Leon Crouch and is still made the same way," is how the Mesquite News reported it in 1983 when they profiled the restaurant. Leon had passed away from a heart attack by then, and his son Kent Crouch had taken over the restaurant. They were already in their current location, a building that once housed a grocery store. The original building on a neighboring lot had been torn down, the brick pit and smokestack going with it. Kent used a 1981 model of the Oyler smoker, which he'd bought new from J&R Manufacturing in Mesquite. They still build the now-famous rotisserie smoker, having taken over production after Oyler was tragically killed by a train in 1973. Now Kent's son, Dustin Palmer, fills the same smoker six days a week. He and his wife Melanie took over ownership of the joint last year.
The barbecue life isn't what Palmer expected for himself when he left home. He started his own siding business, and it was successful, but his dad took him aside one day, and said, "I'm either going to sell it, or you're going to have to take over." At 25, Palmer decided to make a career change. "I loved what I was doing, but I really loved this place," he said. Now he's shepherding the oldest restaurant in Mesquite through its sixtieth year and keeping that old smoker humming right along with it.