Friendly Skies Over Mesquite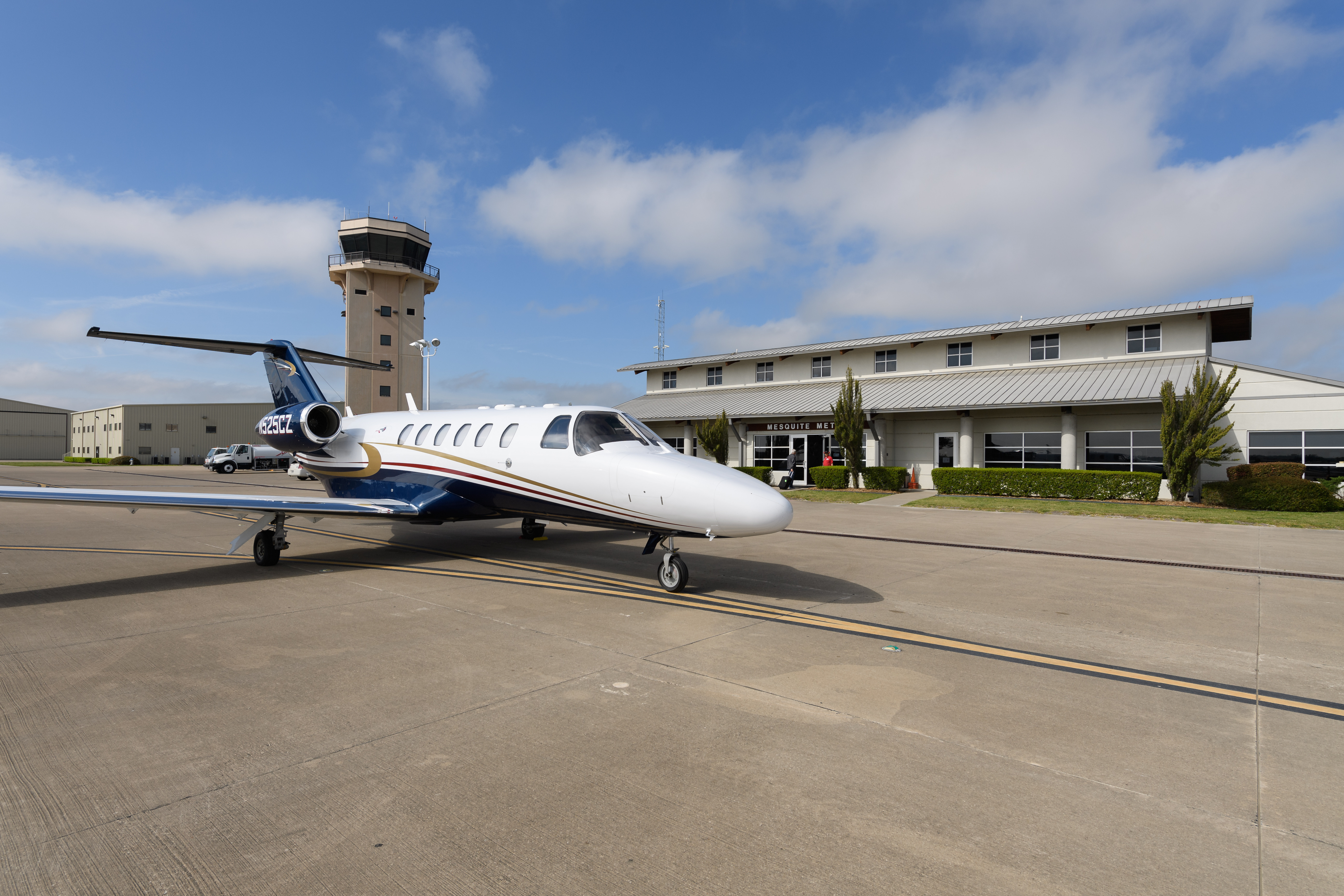 In a briefing to the Mesquite City Council on Tuesday, manager Eric Pratt updated council members on several 2020 highlights and presented Mesquite Metro Airport's immediate strategic plan moving forward.
According to a press release from the City of Mesquite, a plane takes off or lands at the airport about every six minutes and the nearly 86,000 operations in 2020 rank Mesquite Metro as the 164th busiest nationally of facilities with an air traffic control tower.
In the release, Pratt pointed to the airport's key economic development value to Mesquite.
"Mesquite Metro Airport is the front door to our community for a lot of corporate businesses considering investing in our community," Pratt said. "We need to continue to create and provide the best concierge services possible to make sure they feel welcomed. We want them to know we value their visit to Mesquite and appreciate their decision to choose to fly into our airport."
There are currently 215 aircraft based at the airport, according to the release, and a 2018 Texas Department of Transportation survey indicated that Mesquite Metro annually has an estimated $22.7 million impact on the local economy.
The strategic plan presented to the council included four initiatives – attracting new aviation business with new marketing and branding efforts, enhanced security measures, acquiring land for future growth and developing a long-range master plan.
City Manager Cliff Keheley praised Pratt and the airport during the briefing.
"The airport has a significant impact on our local economy and expansion and growth are essential to expanding our tax base," Keheley said. "There are a lot of good things going on at the airport and I am proud of the efforts of Eric Pratt and his staff to provide a quality operation with high standards for customer service."
Mesquite Metro sits on 448 acres and hosts 166 hangars and in 2020, the airport's fuel sales exceeded 317,300 gallons.
"We have seen tremendous growth in the past few years and we want to continue that with a focus on being viewed as a first-class facility for our corporate clients as well as our leisure plane owners who use our airport," Pratt said.
Mesquite Metro, the release stated, is an economic engine for Mesquite and surrounding communities and added that it is responsible for $8.3 million in total economic output, 116 jobs and $3.2 million in payroll. It also provides several community-based services and programs to enhance the health, safety, welfare and quality of life for Mesquite residents and adjacent communities including police and fire support, medical flights, pipeline patrols and Civil Air Patrol search-and-rescue and wildfire patrols.
Future plans for the airport include a program to create high-tech, aviation-related industrial development to generate high-paying jobs and bolster Mesquite's tax base. City officials also envision the development of an industrial district, which is the most compatible land use adjacent to the airport. The plan does not include cargo- or freight-related air traffic. Any increased truck traffic from the business development would be routed to major thoroughfares.
The Airport Master Plan was funded by the Federal Aviation Administration and TxDOT's aviation division. Representatives from these agencies – along with local business representatives, pilots, city council and staff – worked directly with a consulting firm whose expertise is airport planning to ensure that future development (based on demand) fell well within the safety parameters and guidelines set by the FAA and also provides for a competitive facility for corporate air travel.
City officials say future growth and development at the airport helps revitalize the community and brings money and business to Mesquite on a daily basis, which helps keep property taxes down. The City's revitalization vision for the airport and the entire community, officials say, is focused on building value not only in property but in the quality of life to all residents.
In 2005, Mesquite Metro was named the Reliever Airport of the Year by TxDOT and in 2013 the air traffic control tower was opened. The tower followed the 2004 completion of the airport's terminal building that provides modern amenities for pilots, passengers and users of the airport.