Construction Begins on Mesquite 635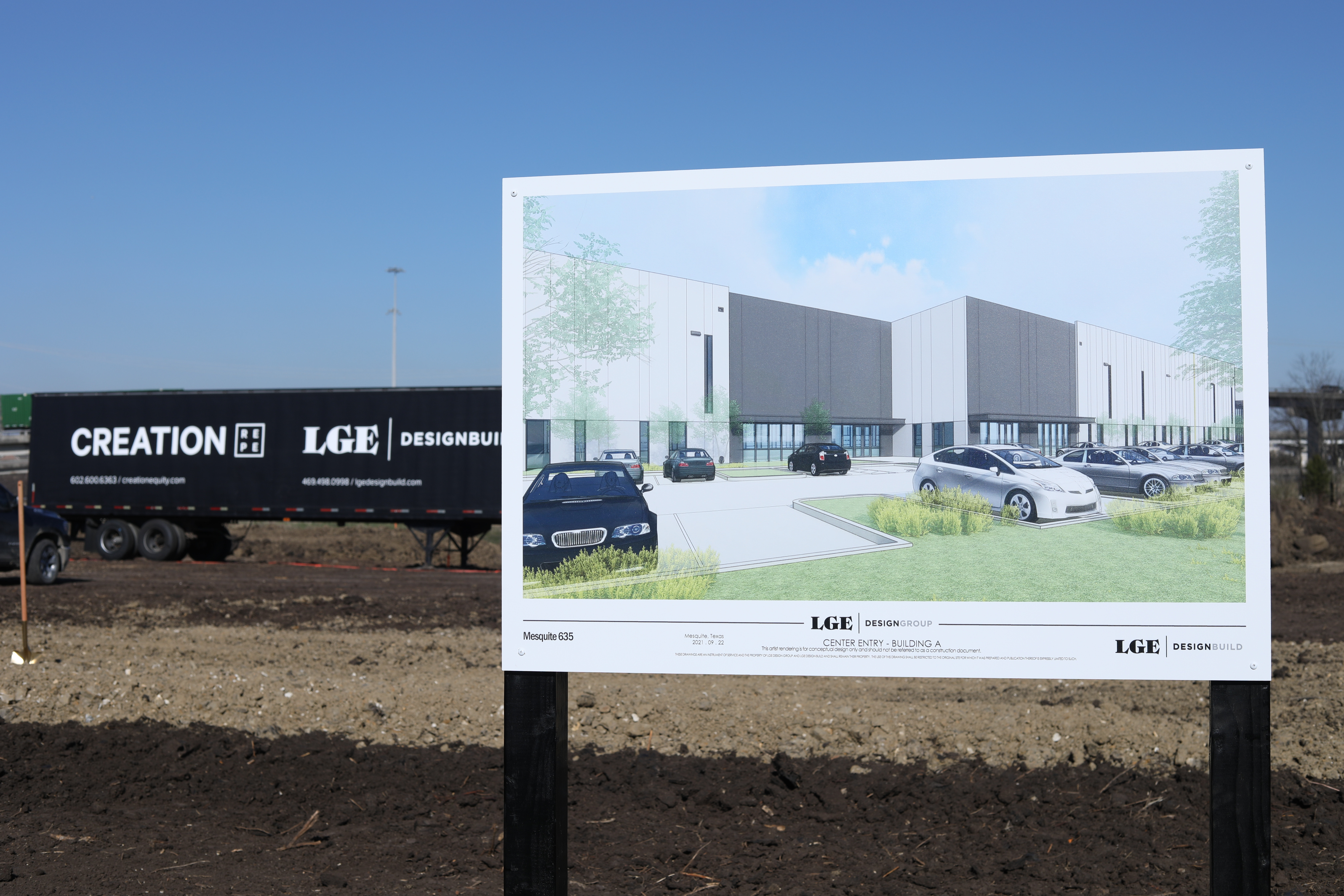 Construction for the new 555,790 square-foot state-of-the-art industrial development in the City of Mesquite has begun. Creation Equity, an alternative investment and real estate development firm, recently held the groundbreaking ceremony for the exciting new industrial project - Mesquite 635.
"Mesquite 635 is bringing a high profile industrial and logistics development to the City of Mesquite and Creation, in partnership with Crow Holdings Capital, couldn't be more proud to be a part of it," Creation's Vice President of Transactions Taylor Mitcham said. "This is a prime location near two major highways and a short distance from Metro Dallas."
Located on the Southeast corner of 635 and Hwy 80 just East of Dallas, Mesquite 635 is in the perfect location for companies looking for a facility that offers a sleek, new high-end design and a convenient 12-minute commute to downtown Dallas.
According to bestplaces.net, Mesquite has seen the job market increase by 3.3% over the last year and future job growth over the next ten years is predicted to be 40.4%, which is higher than the U.S. average of 33.5%.
"Mesquite 635 could not be breaking ground at a better time on the eastern side of the metroplex," said Matthew Dornak, Managing Director at Stream Realty. "With the ability to attract tenants as small as 35,000 square-feet to tenants as large as 555,000 square feet in a growing population center with strong labor and interstate visibility, the development is poised for success given the submarket's grossly under supplied landscape."
Mesquite 635 can accommodate a variety of companies looking for the most current industrial offerings through two high-end rear load buildings and one bulk front load building with immediate highway visibility and accessibility.
Designed by LGE Design Group and built by LGE Design Build, Mesquite 635 incorporates modern design with high-quality building materials.
The Mayor of Mesquite, Daniel Alemán Jr., added, "Mesquite is excited to welcome this new facility to its current industrial line-up. Mesquite 635 will generate more job opportunities and help contribute to our growing economy. It's a win-win for everyone."
Mesquite 635 is now available for leasing through Stream Realty Partners. Contact Matt Dornak and Ryan Wolcott at (214) 267-0461 or (214) 267-0412.
###
About Creation:
Creation is a Phoenix-based alternative investment and real estate development firm founded by David Sellers and Bob Agahi. Creation has a growing pipeline of over $3.8 Billion of ground-up developments in six U.S. states. Creation's alternative investment platform has co-founded four companies since 2015 and participated in the funding of more than 90 burgeoning technology startups across the country. Creation also holds several ownership positions in experiential entertainment concepts throughout the country. www.creationequity.com.
Media Contact: