Event Recap: 2022 Business Awards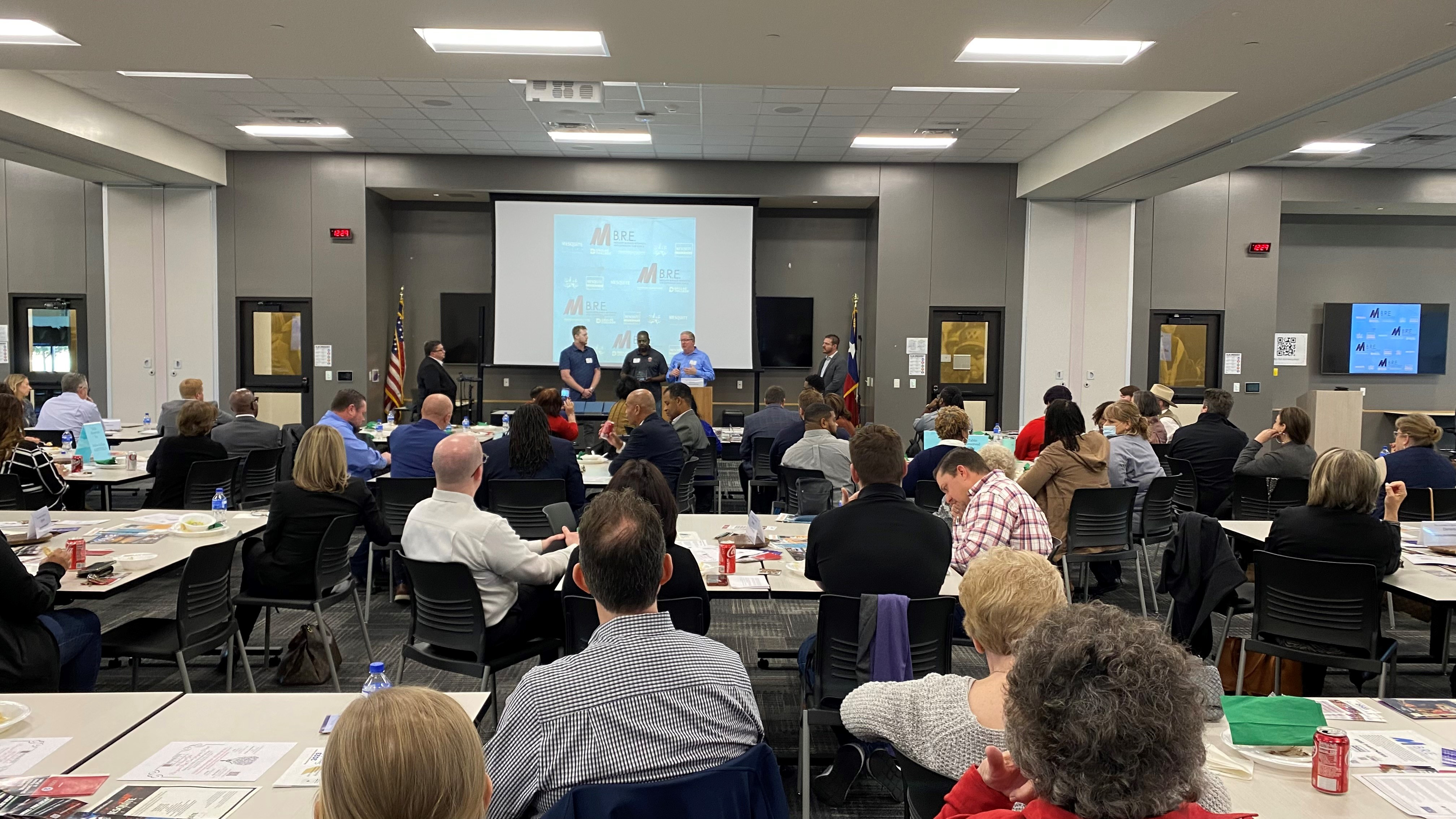 The Mesquite Business Retention and Expansion (BRE) Task Force presented seven awards on January 19, 2023, at the Mesquite Chamber of Commerce Luncheon. The BRE Awards honored Mesquite businesses and community members. Below are the 2022 Award Winners.
The City of Mesquite Economic Development Department awarded Ashley Furniture the Business Legacy Award. Field Recruiter Sonia Sifuentes accepted the award. Past recipients of this award include Fritz Industries (2021) Dallas Regional Medical Center (2020), PepsiCo (2019), and J&R Manufacturing (2018).
Ashley Furniture's founder, Ron Wanek, started the company in 1970 with 35 employees. Today, they are the largest furniture company in the world. Ashley Furniture first visited Mesquite in 2015 and after years of groundwork and negotiations, opened an 877,000 square foot distribution and manufacturing facility in 2019. Today, they are in the process of developing an additional 700,000 square feet of space. They currently employ 450 community members and once the expansion is complete, the total number of employees will be 785. Ashley Furniture is a main player in Mesquite's furniture sector growing by 349% in the past five years, the highest growth rate of any one sector in the City.
Beyond their manufacturing, distribution, and retail footprint in Mesquite, they've given grants to Vanguard High School's robotics program, Mesquite ISD's new career and technical education only high school. Ron, now the Chairman of the Board, has visited the Mesquite facility to meet with the institutional partners such as the City and Mesquite ISD on multiple occasions. Ashley Furniture remains in the Wanek family with Todd Wanek as their Chief Executive Officer.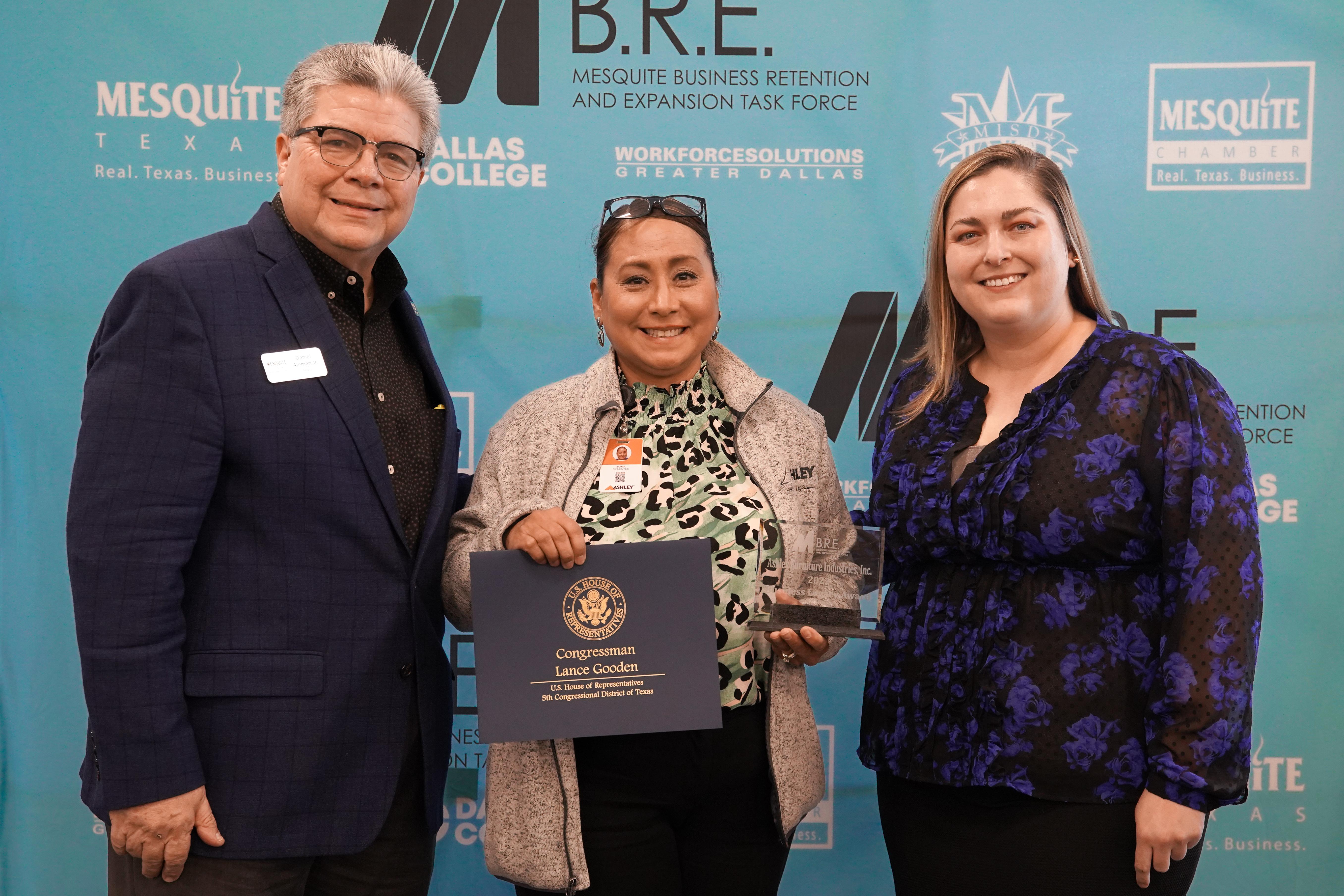 The City of Mesquite Downtown Development office awarded Derrel Lyon aka "Mild Bill" the Downtowner of the Year Award. Derrel has been a key figure in the Downtown community for some time. He is a mainstay at the Downtown Mesquite Farmers Market as a community guide and liaison, as well as an active supporter on social media. Derrel never hesitates to help and inform the community on what makes Downtown Mesquite so great. Past recipients of this award include Lisa Haar (2021) the Front Street Station Stakeholders Group (2020), Mesquite Barbecue (2019), and Corner Theatre (2018).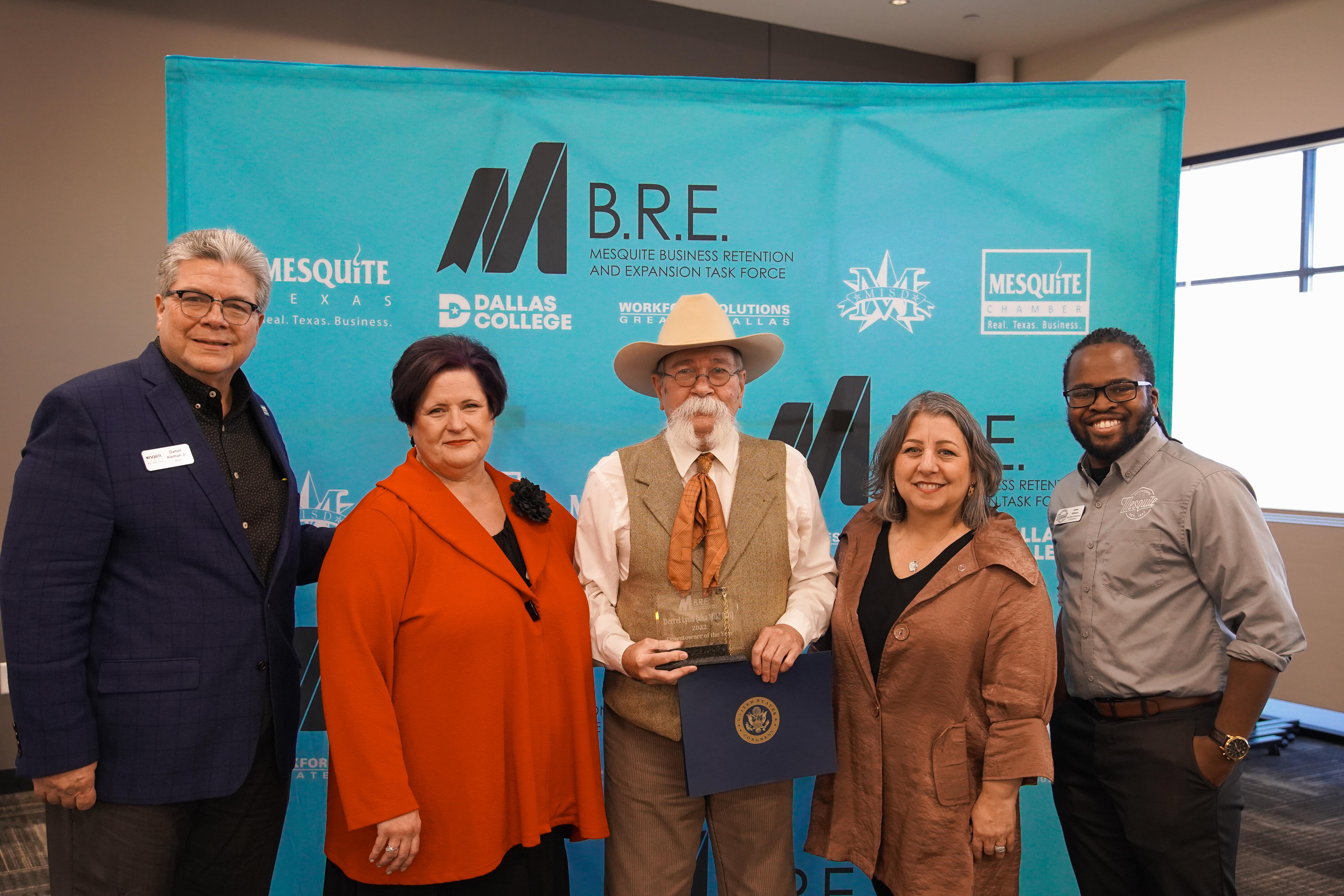 The City of Mesquite Convention & Visitors Bureau awarded Dakota Mattocks, District Manager for Kids Empire, the Tourism Award. Since opening in 2018, the Mesquite location is the highest volume location in the Dallas area. The Mesquite location is one of five in the Dallas area, the first to open in Texas, and the third to open in the entire company. Past recipients of this award include Urban Air (2021) Skip Parsotam (2020), Xcape Adventures (2019), and the Holiday Inn (2018).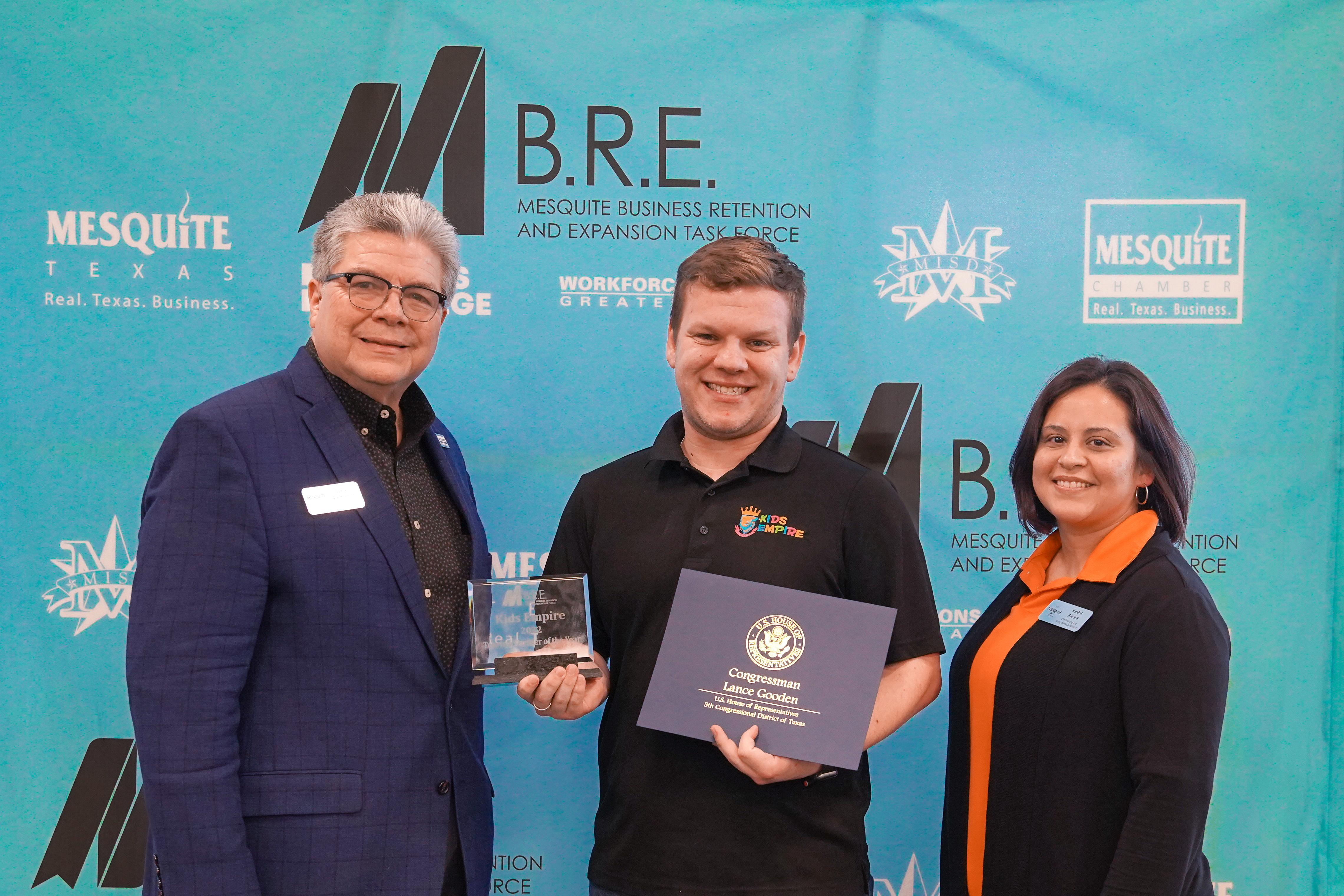 Dallas College awarded Strukmyer the Manufacturer of the Year Award. CEO Sudheer Kancherla, Founder Bob Delk, and Accounting Specialist and Human Resources Coordinator Anabel Garcia accepted the award. Past recipients of this award include Benjamin Moore (2021) Orora Visual (2020), Morrison Products (2019), and PepsiCo (2018).
Strukmyer, established in 1996, is a medical and pharmaceutical manufacturer who handles research and development, design, engineering, manufacturing, and packaging of specialized products. As one of Mesquite's high-tech companies, Strukmyer has been a great partner for years. They allowed Mesquite ISD career and technical education students the opportunity to tour their facility for BRE's Manufacturing Day as well as made their facility available for the city to take pictures and videos used to attract investment to Mesquite.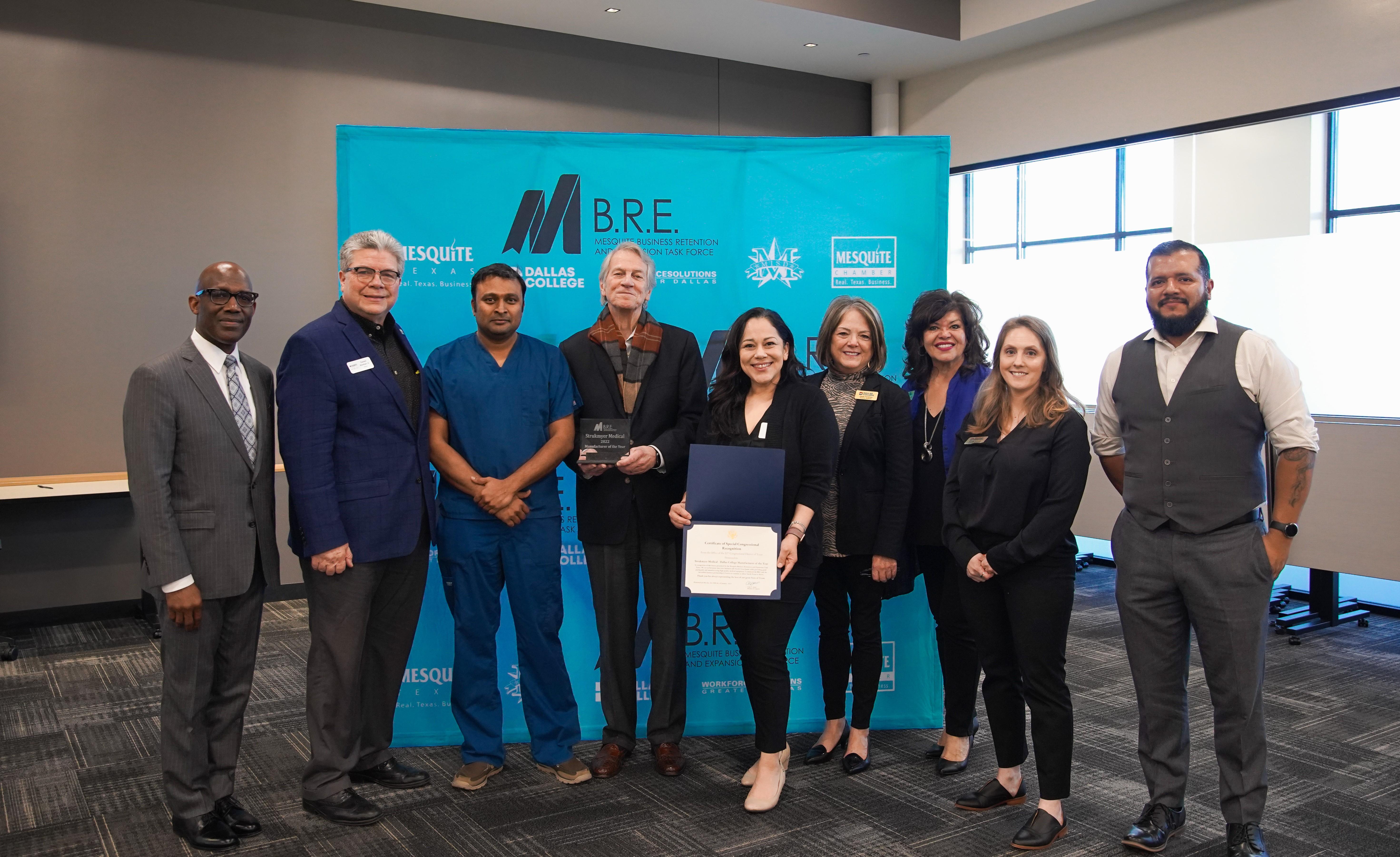 Workforce Solutions Greater Dallas awarded FedEx the Employer of the Year Award. HR Manager Alton Anderson as well as a slew of other FedEx leaders accepted the award. Past recipients of this award include (Revolution) Elements International (2019) and Strukmyer Medical (2018).
FedEx Ground has been a staple employer for the Mesquite community for eight years since building their new facility at a strategic Mesquite location - the convergence of US Hwy. 80 and IH-30 - and has offered thousands of jobs to Mesquite Texans. With the hiring slogan, "Come for a job and stay for a career!", FedEx Ground is part of the rapidly growing warehouse and transportation sector that helps keep America, and our economy, moving. As a Leading Employer, FedEx Ground has partnered with Workforce Solutions Greater Dallas on numerous job postings, hiring events, and job fairs. The Human Resource and Recruiting departments are top notch, offering competitive wages, benefits, Paid Time Off, and over $5000 in tuition reimbursement every year to their employees with no lifetime cap.
Mesquite Independent School District presented Career and Technical Education Partner of the Year award to J&R Manufacturing. President Dave Jendal, Plant Manager Rod Taylor, and Sales Manager Ryan Higgins accepted the award. Past recipients of this award include Dr. Shawn Bosnell (2020), Jerry Junkins Head Start (2019), and Dallas Regional Medical Center (2018).
J&R Manufacturing partners with Mesquite ISD on internships which has resulted with several permanent full-time hires. J&R Manufacturing is one of the most respected "live-fuel" (100% wood-fired) cooking equipment manufacturers in the country. Their line of smokers, broilers and rotisseries can be found in the finest commercial kitchens and restaurants throughout the U.S. and in 50 countries worldwide.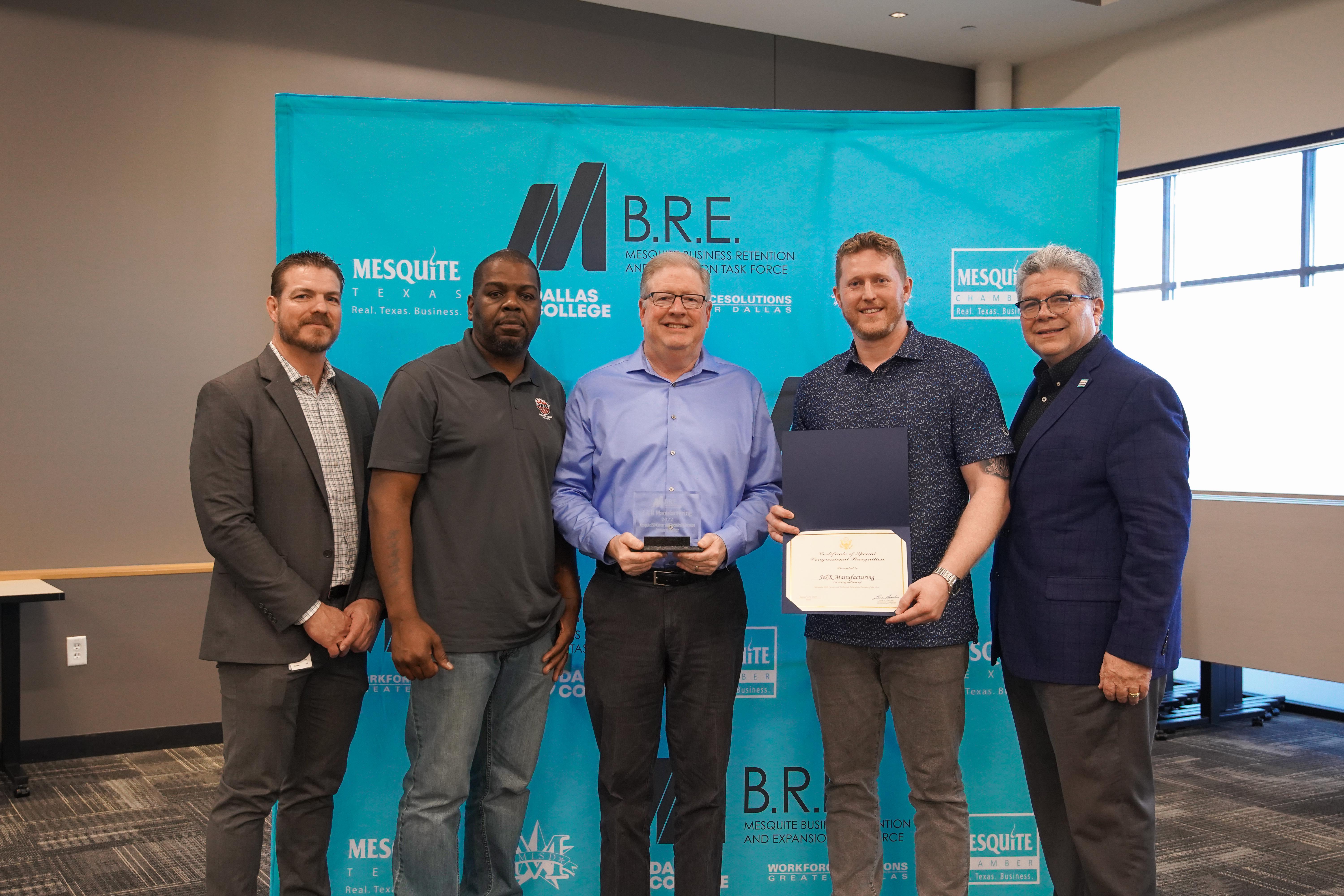 The Mesquite Chamber of Commerce presented Credit Union of Texas with the Partner of the Year award. Community Engagement Officer Kris Harris accepted the award. Credit Union of Texas has been a big supporter of the Mesquite Chamber of Commerce this past year, with support and title sponsorship of the Mesquite Business Expo, involvement in Leadership Mesquite, and joining us when new businesses open their doors.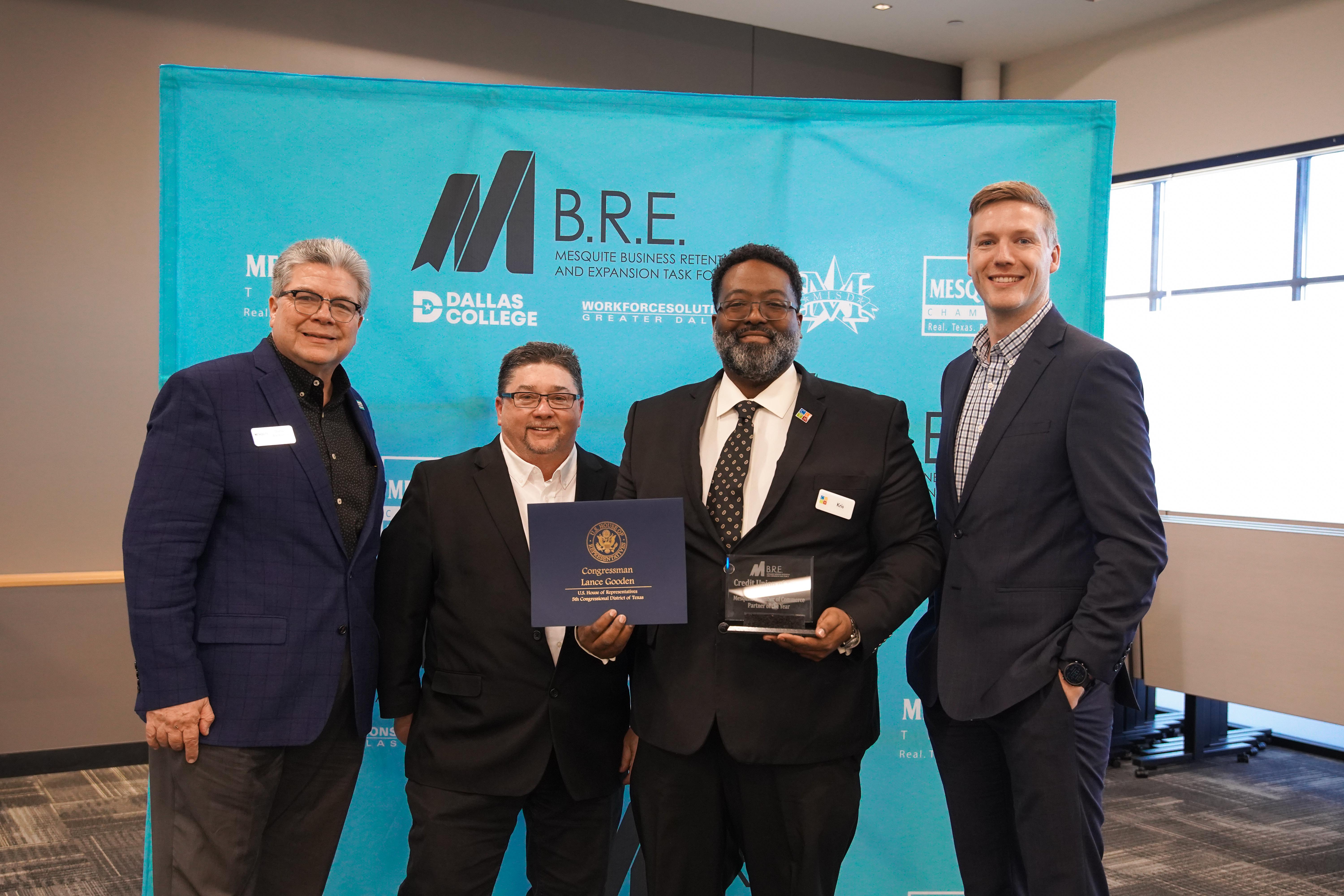 Among the eighty-seven event attendees, there were several past award recipients in the audience. These included Benjamin Moore, Elements International, Lisa Haar, Dallas Regional Medical Center, and Morrison Products.
Thank you to Elements International for sponsoring the luncheon and to Mesquite Independent School District for providing the location.
The Business Retention & Expansion Task Force is a partnership of Mesquite's core economic development stakeholder organizations, including the City of Mesquite, the Mesquite Independent School District, Dallas College, Workforce Solutions Greater Dallas and the Mesquite Chamber of Commerce. The task force works to support existing employers and employees in the community. For more information, contact the City of Mesquite Economic Development Department at 972-216-6446.