Events
Events
Manufacturing Day October 2021
Thank you to everyone who participated in our Virtual Manufacturing Day. We had around 38 attendees. Click here to access the presentations, supporting materials, and event flyers presented/discussed in the event.
Click here to view the event recording.
View the press release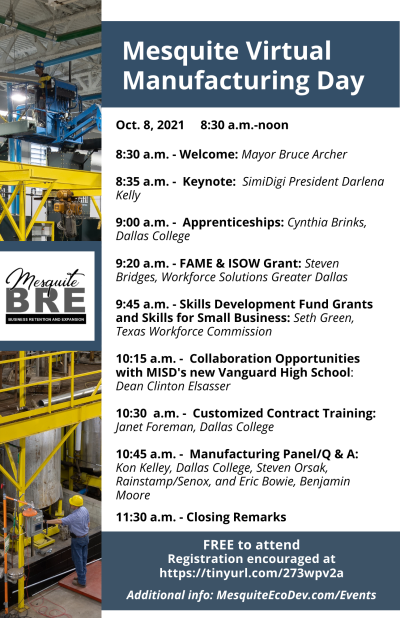 Business Marketing Panel July 2021
Mesquite Job Fair June 2021
Promotional Video
The June 9 Mesquite Job Fair, held at the Mesquite Convention Center and Exhibit Hall, attracted 213 job seekers from 17 different cities across the DFW metroplex, and was highlighted by many receiving job offers by the end of the day.
The event was presented by the Business Retention and Expansion Task Force, which consists of the City of Mesquite Economic Development Department, Mesquite Independent School District, Dallas College-Eastfield Campus, Workforce Solutions Greater Dallas and the Mesquite Chamber of Commerce.
The city's Director of Economic Development, Kim Buttram, said, "We had 150 job seekers pre-register and were able to connect people with employers looking to hire immediately."
Buttram shared that one success story included a job seeker having his name pulled from the drawing to win a large flat screen TV and then getting a job offer later that day. He wrote in an email to the city, "That is some fantastic news. I have never won anything. Thank you all so much. I picked up the TV and then got a job offer. This has been a truly blessed day. Just shows the power of prayer. It's been a rough year and then I got a little windfall.
The fair had more than 60 companies representing various professions as well as supporting agencies. This included businesses in the food and beverage industry, hospitality, healthcare, industrial, manufacturing and more.
The job fair featured a "how to" section that offered tips to teenagers looking for work as well as new job seekers. This area of the fair gave guidance on resume writing, interview techniques and counseling on how to dress for interviews.
Mayor Bruce Archer stated, "Today was a wonderful day in Mesquite, Texas! When I walked into the Convention Center at the opening there was already a strong stream of job seekers coming in. I met and spoke with employers and visited with many job seekers. Each person's story of where they've been and where they hope to go inspired me greatly. Helping get people back to work, expanding hope and offering economic opportunity is exciting and something I'm passionate about it."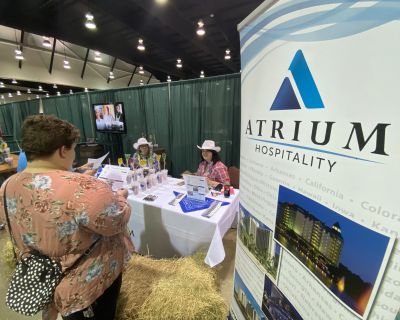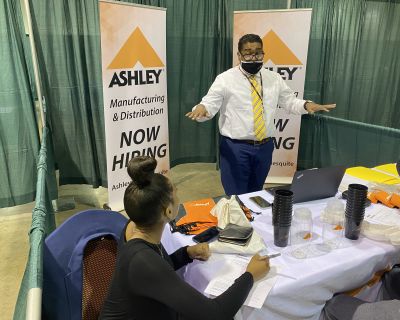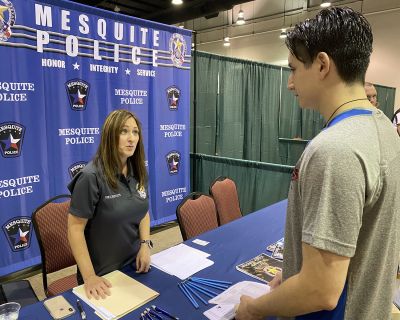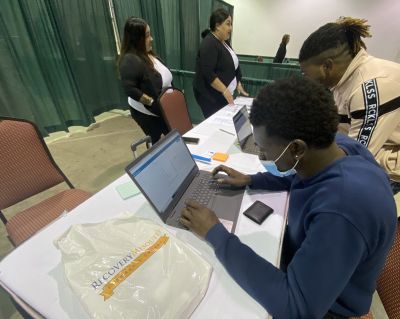 Local Market Data & Trends April 2021
Avison Young Research Manager Micah Rabalais provided a Local Market Data & Trends presentation. Rabalais's presentation highlighted data from quarter one of the current calendar year and focused on the City of Mesquite, Texas and the larger Dallas/Fort Worth region.
This event was brought to you by the Mesquite Business Retention & Expansion Task Force. Avison Young is a Dallas-based commercial real estate advising firm providing services for investment sales, leasing and project management in the Dallas-Fort Worth area.
The event was free to attend and participants could join via a Microsoft Teams Live link at 12:00 noon April 13.
The presentation provided valuable information for local business owners and managers, investors, commercial real estate brokers and anyone interested in the Mesquite- area business climate.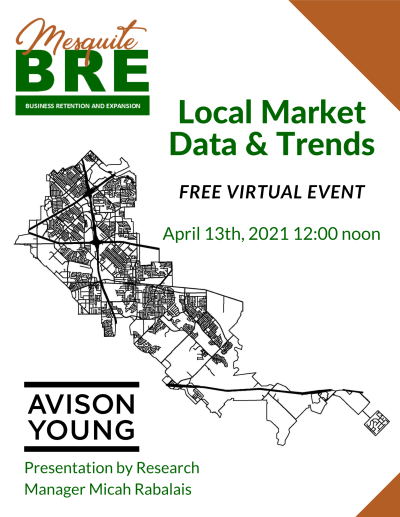 Watch the presentation
Chamber of Commerce 2020 Annual Awards Banquet
Winners:
Entrepreneur of the Year - Big Hit Creative
Tourism - Xcape Adventures
Business Legacy - PepsiCo
Downtowner of the Year - Mesquite BBQ
Manufacturer of the Year - Orora Visual
Internship Partner of the Year - Jerry Junkins Head Start
Employer of the Year - Elements International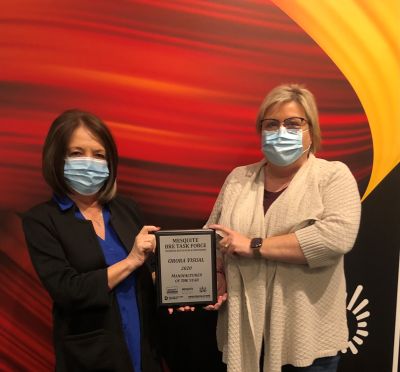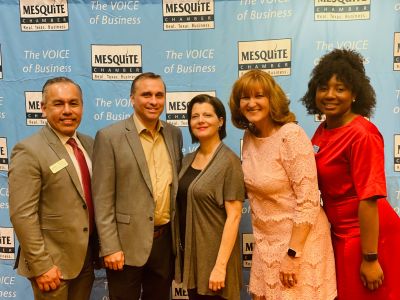 Chamber of Commerce 2019 Annual Awards Banquet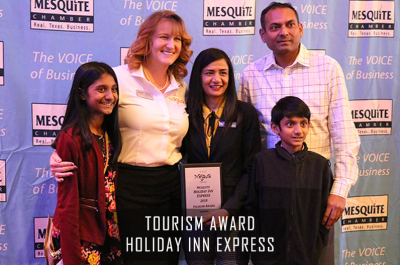 Entrepreneurs Day November 2019
More than 50 dreamers, business owners and experts gathered for collaboration and best practices at the Mesquite Arts Center.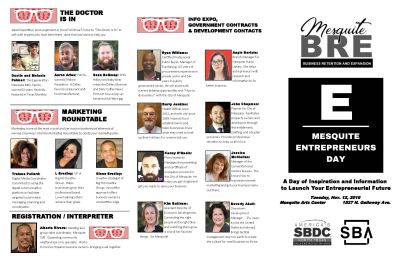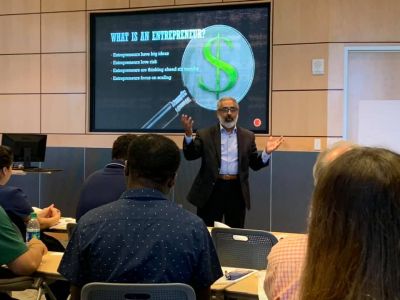 Hospitality Brunch October 2019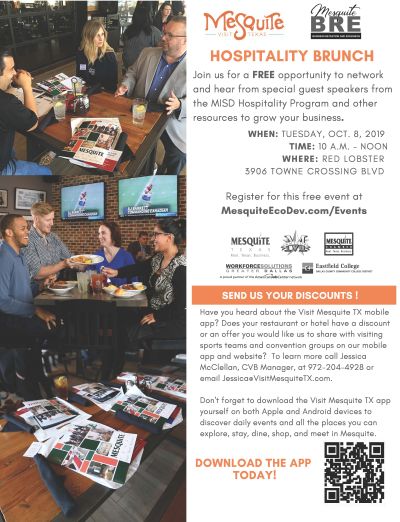 Manufacturing Day October 2019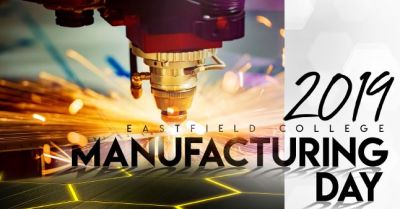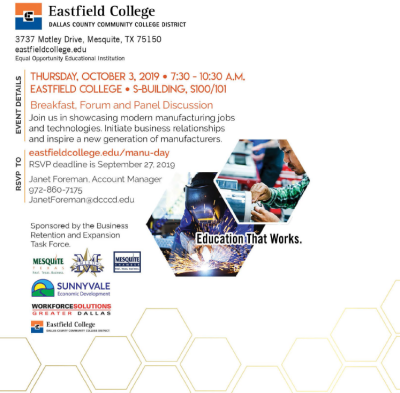 Human Resources Luncheon September 2019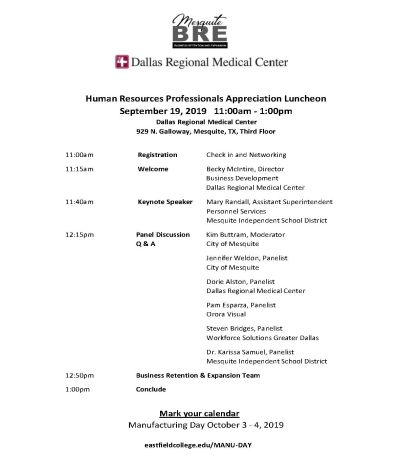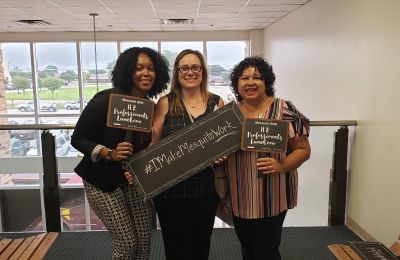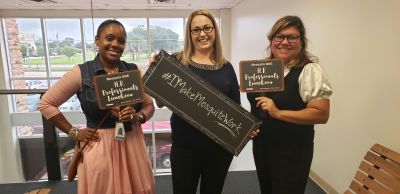 Small Business/Entrepreneurship Workshop Series June - October 2019
More than 45 aspiring entrepreneurs and small business owners/dreamers attended these workshops on planning, funding, marketing and budgeting.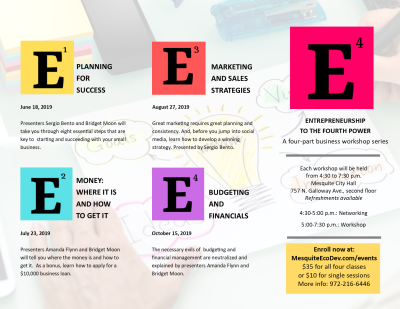 Restaurants & Attractions Roundtable May 2019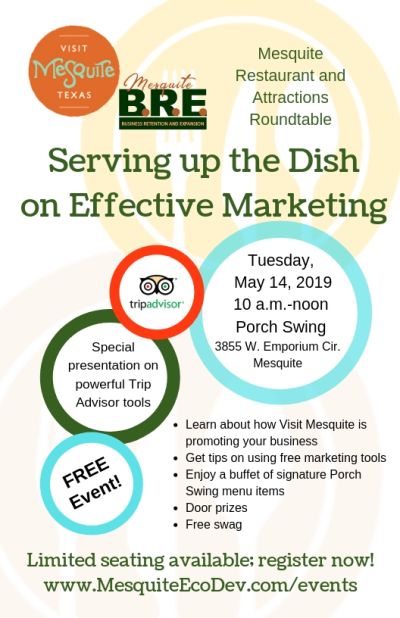 Industry Breakfast May 2019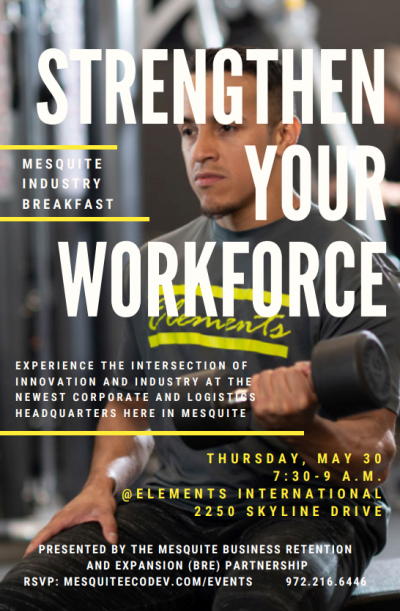 Chamber of Commerce 2018 Annual Awards Banquet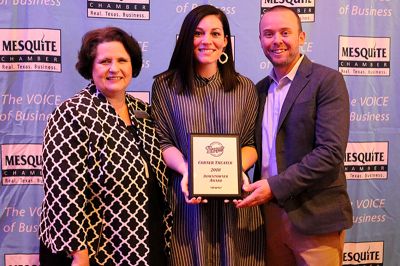 Envision Your Future as an Entrepreneur November 2018
This event brought more than 100 business owners, doers, dreamers, counselors, and supporters under one roof.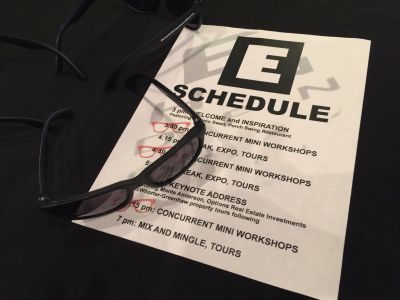 Turbo Boost Your Workforce Breakfast May 2018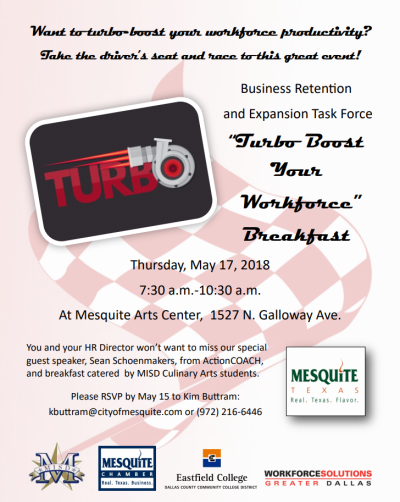 Power Up Your Workforce March 2017
Industry Collaborative January 2017
New Year New Network January 2017
This event was held from 7:30 to 9:00 am at the MISD Professional Development Center.
The Big Five (Business Sectors) January 2017