Gus Thomasson Corridor
Welcome to the Gus Thomasson Corridor - GTC for short.
Gus Thomasson (GT) Rd enters Mesquite in the Northwest area by La Prada Event Center and Country Club Estates. It travels Southeast (parallel to I-635 and N Galloway Ave East off I-635) crossing I-30 and ends at I-80.
The North portion of GTC is located in a Tax Increment Reinvestment Zone (TIRZ) and new housing development is taking place. A $3 billion road infrastructure improvement project was recently completed and the Thomasson Square Project is estimated to have a cumulative economic impact of $558 million.
Events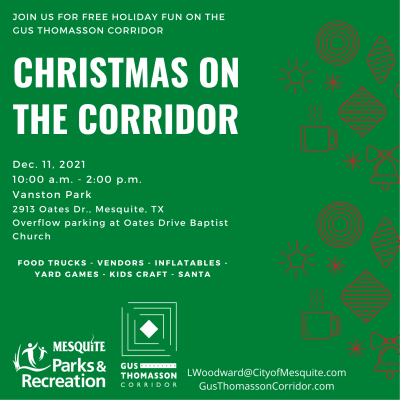 We are seeking volunteers and are still accepting food truck and vendor applications. For vendors, we are looking for artisan and/or Gus Thomasson Corridor businesses only. Here is the vendor application.
Below are volunteer roles we're looking to fill.
*Help Parks & Recreation staff unload and set up tables, chairs, yard games, etc.
*Help Parks & Recreation staff load tables, chairs, yard games, etc.
*Man and encourage participation in yard games and encourage use of selfie stations.
*Set up cones and man reserved parking for City Council members and/or serve as event greeters.
*General area maintenance such as trash pickup, troubleshoot event issues or bring to staff's attention, check in with vendors and food trucks to make sure they're doing okay, check in with Santa to make sure he's doing okay, provide bathroom breaks to volunteers / be a floater volunteer.